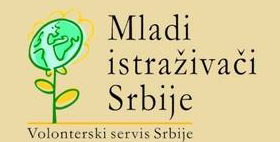 About YRS – VSS
Young Researches of Serbia (YRS) is a non-profit, non-political NGO officially established in 1976 as a network of
organizations, societies, clubs and sections with research programmes, gathered around the coordinative office on the
national level in Belgrade. Through its history the number of members changed, but there were over 50 different
organizations taking part. In the 90's YRS leaves the organizational form of vertical relationships following the current
direction of civil sector development. Today YRS represents the organization on the national level and it unites three
thematically different but interconnected sectors – Environmental Protection and Conservation Sector, Youth Sector and
Voluntary Service of Serbia.
Young Researches of Serbia involves mostly young people aged 15-30, but there is no upper age limit. We have developed
in delivering good preparation and follow up of young people with fewer opportunities.

THINK BIG - do little: start an avalanche! is our motto.
Our vision is to be the driving force for all those whose aim is to make our planet a more peaceful, just and healthy place.
Driven by science and education, our mission is to contribute:
to environmental protection and nature conservation,
to development of voluntarism and its values,
to scientific creativity and active participation of the youth.

Our main aims are environmental protection, environmental education, youth exchange and work with young people, as
well as the promotion of sustainable development, scientific creativity and volunteerism.
We have organized hundreds of research projects and educative programmes for young people in various areas of natural
and social sciences.

INTERNATIONAL VOLUNTARY SERVICE
We usually send approx. 400-500 volunteers from Serbia abroad and host 400 foreign volunteers to 35+ workcamps each
year. Since 2015 our work on international volunteers exchange is supported by the Ministry for youth and sports of the
Republic of Serbia.

MEMBERSHIP IN INTERNATIONAL ORGANIZATIONS
YRS is a member of: Alliance of European Voluntary Service Organizations, CCIVS – Coordinative Committee of
International Voluntary Service, YEE – Youth and Environment Europe, ANPED – Northern Alliance for Sustainability,
CEEWEB – Central and East European Working Group for the Enhancement of Biodiversity, and a partner of the network
SCI in Serbia. YRS is one of the founding members of SEEYN – South East European Youth Network.

IN THE ALLIANCE
We are full members of the Alliance since 2005 and in the IVS movement since 1980's. Our main contribution to the
network has been in delegating representatives to the Executive Committee (Jelena Ristic Beronja, Vicepresident of the
Alliance 2010-2016, senior trainer in the Pool of Trainers since 2014) and Management Committees (Bojan Beronja as
SDWG coordinator 2012-2014 and again in 2016) and hosting EC meetings, the first Joint Meeting in 2012, Alliance
Capacity Building Training in 2014, Alliance General Conference and General Assembly 2016. We will be hosting the
Alliance General Assembly in 2016.

9 contact points for outgoing volunteers in Serbia:
Since 2010 we have entered into partnerships with voluntary organisations or local youth offices all over Serbia in order to
give more support for volunteers who want to go to workcamps abroad, but also to have local partners that act as regional centres, following up the volunteers on their way back to the country, organising regional promotional campaigns of
international voluntary service and local youth activism and to organise regional workcamps. We invite you to recognize
their involvement: Youth Offices of Obrenovac and Novi Pazar, Environmental movement of Vojvodina, Proaktiv Nis,
Interaktiv Kragujevac, Regional Volunteer Centre Pancevo, Timok Youth Center Zajecar, Center for Local Democracy
Knjazevac, Society of Young Researchers Bor.

GENERAL CONDITIONS for incoming volunteers:
In some workcamps there is an age limit, it is clearly marked for each workcamp. There are TEEN workcamps as well
(15-17) with 120€ fee to be paid on arrival to camp leaders. For workcamps where we accept the volunteers who are 18 and older, volunteers who are 17 but have participated in a workcamp before, can apply and we will try to place them in our
workcamps, upon the host's approval. Don't hesitate to ask us!
The language of the camps is English.
All our workcamps follow guidelines of the Environmental Sustainability to the extent the local conditions allow.