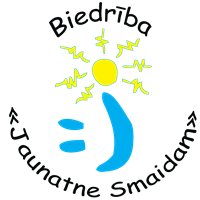 Introduction to JAUNATNE SMAIDAM / YOUTH FOR SMILE
The association Jaunatne smaidam / Youth for Smile is a non-profit non-governmental youth organization established in
2005. Our organization's mission says that we are a strong and value-based children and youth non-governmental
organization that in achieving its goals, objectives and basic principles acts as impetus for the strengthening of the basic
principles of civil society. Our main aim is to unite children and youth to promote their participation in non-formal education
in order to develop their skills and abilities to take part actively in social processes at local, national and international levels.
All our activities coincide with our values such as fairness and equality; mutual understanding and tolerance; active and
healthy way of living; the development of personality; understanding and a creative atmosphere; environment-friendly
behaviour.

Our target group is children and youth in Bauska, Iecava, Rundāle and Vecumnieki municipalities. Within our strategy, we
point out five directions of our activities.
1. Development of Association. The association's development vision is based on the three core elements such as
members of the organization, the image of organization and the professional capacity. Our members are children, young
people and youth workers.
2. Youth Policy. In collaboration with national youth non-governmental organizations and institutions that are responsible
for youth, we want to encourage a stronger role of the youth work in the region. It continues to work in close cooperation
with local governments, educational institutions, non-governmental organizations and young people.
3. Participation. Young people are the base for a local community development. Enhancing participation will be based on
a number of key areas such as social inclusion, creativity, cultural heritage identification, entrepreneurial development and
volunteering at local and international levels.
4. Information. One of the priorities is to raise awareness of young people about the opportunities they have.
5. Initiatives. We work with scouting methods. In regular activities, we use as well outdoor education and adventure
pedagogic methods. We work on establishing a support centre for youth and an outdoor education centre.

Source of income.
Our income consists mainly of the received grants for the projects from the foundations like Erasmus+ programs, the EU
funds etc. Part of our income comes from the donations, membership fees, and subscription fees from participants of our
programs.
General information
Through the work camps we want to introduce voluntary work as a part of the development of active citizenship in a local
community. All camp leaders will be prepared in a special training programme which includes intercultural learning, team
building, conflict management, etc.
Work
Our work camps last about 2 weeks and take place from June to September. The number of international volunteers in the
camp is usually 8. We try to avoid having more than 2-3 people of the same nationality in a camp. English is the language
of communication in all camps. As a rule, volunteers have to work 5-7 hours a day 5 days a week for the benefit of a local
community. Hosts provide food and accommodation as well as social and cultural activities in return.
Conditions for participation
Volunteers should be over 18 years old. We can host 2 – 3 volunteers who are 15-17 years old. There is no maximum age
limit. Usually there are no special skills required from volunteers, except camps that deal with kids. Participants should be
motivated to do voluntary work, be ready to meet the realities of local life and have enough flexibility to accept it, be tolerant
and open for the new experiences.
Camp leaders
As a rule, in the camp there are one or two leaders whose task is to be a coordinator and a link between the participants
and the host. Leaders participate in daily life equally with volunteers.
Insurance
Insurance is not provided in our camps therefore volunteers have to bring their own insurance against illness, accident and
third party risks. Participants from the EU countries should bring the EU health insurance form.
Some practical matters
For the majority of camps volunteers have to bring a sleeping bag, working clothes and gloves, summer clothes and a
swimming suit, as well as warm clothes and rain-gear as the weather in Latvia is very changeable and really unpredictable.
Our volunteers can be accommodated in clubs, schools or tents. It is vital to have a mosquito cream. Volunteers are also
asked to bring information about their country, photos, music, games, musical instruments, etc.