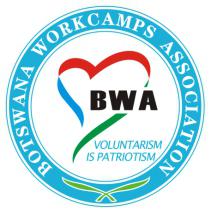 BACKGROUND
The Botswana Workcamps Association (BWA) is a non-governmental, non-profit making voluntary organization registered
with the Ministry of Labour and Home Affairs in April 1980 under the Societies Act. With headquarters in Mochudi in the
Kgatleng District, BWA collaborates with local and national structures and bodies and is also secretariat of the Southern Africa
Workcamps Cooperation (SAWC). It is affiliated to the Botswana Council of Non- Governmental Organizations (BOCONGO)
and to the Coordinating Committee for International Voluntary Services (CCIVS).
The mission of Botswana Workcamps Association is to enhance community voluntary discipline, participation and increase self-reliance for broad based sustainable development in construction, environmental management and conversation,
economic empowerment, psychological and physiological rehabilitation and leadership development. BWA is run by Executive
Committee voted into power every two years by members at the Annual General meeting, which is the powerful organ of the
organisation. The BWA executive committee led by Chairperson and provides strategic direction and governance oversight of
the organisation. The role of BWA executive committee is overseen by president, who monitors and maintains effectiveness of
BWA structures in ensuring sustainability of the organisation. BWA is run on democratic and participatory lines in accordance
with its constitution. BWA runs weekend, national and international workcamps annually. Weekend workcamps are organised
mainly by local branches and attended by members in their respective communities. National workcamps are organised and
run during public school vacations for a week or two weeks across Botswana. The international workcamps are organised
during different months of the year and target local and international volunteers, ready to make worthwhile contributions in
sustainable developments. The International volunteer projects that BWA offers, brings together individuals from around the
world for 2 weeks work camps. Participants work together as an international team on different kinds of projects. These
include;
Environmental management and conservation: The existence of our earth depends how the current generation manages
the natural resources esp. vegetation, water, air and wildlife. The projects involve establishment and maintaining of nature
reserves and parks through improving nature trails, camp sites and fire breaks, waste recycling, Tree planting, refuse removal,
soil erosion prevention and maintenance,
Construction: public toilets, classrooms, community halls, irrigation channels, clinics, paving and brick moulding,
Renovation: historical monuments, archaeological sites, cultural centers, community canters, old bridges and any other related work,
Social Work: with/for children, refugees, people with disabilities, women groups and children in difficult circumstances, by provision of psychological and physiological support,
Heritage: workcamps held in heritage sites as recognized by UNESCO to safeguard or conserve the intangible cultural wealth, provision of awareness in appreciation of the cultural diversity and preservation.
Others: solidarity camps, cultural camps and debushing (cutting of trees)

WHEN DO WORKCAMPS TAKE PLACE
The work camps run between set dates for two weeks in length. The weather conditions are as follows:
Summer: November, December, and January
Autumn: February, March, April
Winter: May, June, and July
Spring: August, September, and October
The work camp program for each year is available at the beginning of the year and it is given to all partner organization around the world
Who are work camp participants?
An international work camp is made up of volunteers from different nationalities worldwide. Volunteers normally do not know each other until they arrive. They are usually from partner organizations of BWA around d the world.
Skills of the individual volunteer
Commitment of volunteers; Project or work camps are not just cheap holidays; hard work and full participation is required. Volunteers should be self driven, adaptable, people oriented and tenacious,

Specific motivation may be required for some projects.

ENGLISH is the medium of communication in work camp. Note: Workcamps are form of cultural exchange as such participants are encouraged to learn each other language
Participants who are not good in English are also accepted to participate as BWA encourages non discrimination.