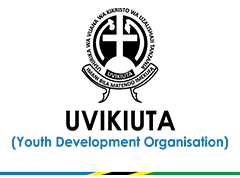 ABOUT US
UVIKIUTA is a Youth development Organization that values volunteerism as a tool for sustainable development. The
organization was established in 1983 to respond to the needs of young women and men to raise their living standards through
developing and enhancing social and economic capacities. Our goal is to contribute to build sustainable and self-reliant
communities through providing holistic experience that broaden minds, expand horizons and empower young people and their
communities to realize their full potential as productive, responsible and caring citizens. UVIKIUTA-Tanzania is founder
member of the Eastern African voluntary service Network (EAVS-Network), formally EAWA, Long term partner with Service
Civil International (SCI), Partner with most members of ALLIANCE and NVDA. We work also very close with Various
Government Departments, United Nations Volunteer Program (UNV), various local/ International higher learning institutions,
Non-Government and Community based organizations.
SHORT TERM VOLUNTEER PROGRAM (International Work camps)
It is a unique cross cultural experiences program that connects people from around the world with local communities in
Tanzania. The program offers a powerful vision built on our belief that volunteers, young people and local hosting communities
has a vital role to play in development and in building a more just and sustainable world community. The program is a tool to
demonstrate that, living and working together is not only possible but also rewarding. In this program we see the possibility of
program participants and the hosting communities exchange experience, and thus gain in-depth knowledge of other Social,
Cultural and economic realities of the world.
General Participation Conditions:
Age: 18 years and above. No age limit. Younger Participants can be accepted provided that they are accompanied by
their parents or an authorized guardian(s)
Family, group, Senior, couples and disabled Participants: Families, groups, couples, seniors and those with disabilities are encouraged to join the program. However they should contact us in advance through their sponsoring organizations for
proper environments that fit their special needs.
Application: Application will be received only through sponsoring/Sending organization (s) in the country of applicants'
resident at latest one week before the starting of the projects. Participants will be accepted only when free placements
Duration of the program: 2-3 weeks maximum. However Participant can apply for more than one project and stay longer in the country. Participants are expected to arrival on time and stay to the end.

Language: Official Languages of the program are English and Kiswahili. However you do not need to be fluently, unless

specified in the specific project.

Visas & Permits to stay in Tanzania: Program Candidates need to have appropriate visas to enter the country. The
recommended type is business visas which can be obtained at any boarder entry of Tanzania including Airports. Invitation letter might be necessary and it will be issued when the following information are confirmed. (Please fill the form and send it back).
Finances: Unless there is special arrangements with the sending organisation or indicated differently in the information
sheet, Participants are expected to pay a non-refundable participation fee of €250. Participation fee does not cover the cost
of medical/health services, all types of insurances, cost of transport to the community after the orientation, relevant Visas or
permits, airport drop off on departure date, pocket money, free/leisure activities and other personal expenses. However;
participation fee does cover the cost of airport pickups on arrival, orientation on arrival, food and accommodation during the
project and general running cost of the program.